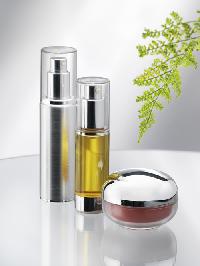 Therapia Skincare
Presenting a new concept in nutritionally-based skincare:

Exquisite products bursting with cutting-edge anti-ageing and antioxidant ingredients:
Hyaluronic acid; Coenzyme Q10; Retinol; Alpha lipoic acid; Vitamins E & C


A unique fusion of luxurious botanical oils & oil extracts to nourish your skin:
Argan; Jojoba; Macadamia; Shea; Omega 3, 6, 7 & 9; Pumpkin; Sesame


Phyto-aromatic extracts for deep hydration and regeneration:
Sea Buckthorn; Frankincense; Rosehip; Myrrh; NFF Complex; Echium

Therapia - providing essential nutrients for a glowing, healthy complexion - safely:

Pure botanical ingredients
Naturally derived preservatives and emulsifiers
Not tested on animals - only willing humans, mainly ourselves!
CLEANSE AND PURIFY

Cleansing and purifying are the basic tenets of all beauty regimes. Ours is no exception, but we all know how difficult it is to decide upon which type of product to use - dry skin, greasy skin, combination, sensitive, mature - the list seems endless. So Therapia has made it so much simpler, providing you with cleansers and toner/purifiers which are suitable for all skin types.

Both our Cleansers leave your complexion squeaky clean (not covered in oily residue), and our Hydrating Primer prepares your skin to absorb the maximum amount of moisturiser. Finally, the Pore Refiner can help to smooth away coarse skin in the T zone.
NOURISH AND HYDRATE

Now that your skin is cleansed, toned, purified, pH balanced, exfoliated, etc., etc., it is time to consider the next two stages.

All skin needs moisturising - not just dry or mature types. Even very oily complexions can become dehydrated, leaving them prone to spots and acne. Beta Serum is our flagship product. It is oil-free and intensely hydrating, making it the indispensable addition to every skincare regime.

Healthy skin needs the correct food, too. Choose from regenerating Omega Serum, our rich emollient Skin Nutrition - or if you are feeling really decadent, try our beautifully scented Neroli Aroma-Balms ! Whichever one you decide upon, you can be sure that you will have the best-fed complexion anywhere!
SENSITIVE OR TROUBLED SKIN

Skin sensitivity is an increasing problem. The cocktail of chemicals which make up the bulk of standard skincare products can wreak havoc upon vulnerable complexions. There are some women (and many men) who cannot tolerate even natural essential oils and aromas, and for them the choice is truly limited. Therapia is enlarging its range of fragrance-free and hypoallergenic products so that every individual can have access to effective and luxurious skincare.

Most products will are available in trial sizes so you can try them first, but if you have any queries please feel free to contact us. Remember that we can also accommodate virtually any requirement with our bespoke product service.

This unscented range has found increasing popularity amongst our male customers. Smooth, healthy skin need no longer be the preserve of the feminine gender!
MALE SKINCARE

Many people wrongly assume that a mans skin is less in need of attention than a womans. However, male skin is subject to the same environmental stresses as female skin, and has the added insult of shaving to contend with. And why should men be less concerned with the effects of ageing? The male complexion may be oilier, but it still needs moisture and protection.

Here at Therapia we considered formulating a skincare range especially for men, but after a great deal of deliberation and testing, we realised that our Sensitive Skin products were exactly what were needed. Pure, unscented products that can be safely applied to freshly-shaved skin without fear of irritation.

So, if you are a man searching for the ultimate in anti-ageing or soothing skincare, you can be sure that you have come to the right place!
BEAUTY FROM WITHIN

Hopefully you have already discovered the exquisite range of skincare from Therapia, and now you may be wondering whether there is even more you can do to improve the health and beauty of your skin.

Have you thought about nourishing your complexion from the inside?

Did you know that only 20% of your skin is directly affected by anything you apply externally? The remaining 80% needs to be fed from the inside!

Many of the wonderful active ingredients in our products are also available as food supplements which can increase the effectiveness of your Therapia skincare. Taking regular internal skin food can have many benefits:


dry skin becomes less flaky and parched
oily skin is less prone to spots and enlarged pores
more antioxidant protection against environmental damage
improved skin elasticity and immunity

The supplements listed below are particularly skin-friendly, but remember that the skin is the outward reflection of the internal environment of the body. If you have real problems with your complexion, you might like to consider a nutritional consultation with Margaret Papoutsis. Improving digestive health, eliminating intolerances, balancing hormones and maximising detoxification can have near-miraculous effects on skin...
© Eminence Ltd 2007 - 2017