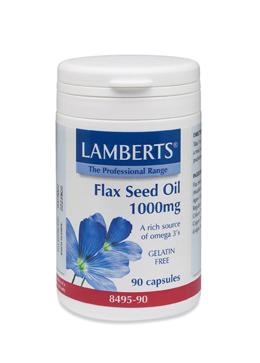 Flax Seed Oil Omega 3 1000mg Capsules
Much has been written about the many benefits of omega 3 oil consumption. There are numerous studies relating to improvements in many aspects of health including memory, circulation, heart problems, skin, childhood behaviour and intelligence, arthritis and anti inflammatory effects. It is arguably the single most useful supplement that does something for just about everyone, of almost any age.

Omega 3 is often used in skincare products for dry skin and in salves for soothing problems such as eczema and psoriasis.

Lambert's FLAX SEED OIL is an ideal Omega-3 supplement for individuals who wish to avoid animal products, or who find fish oils unpalatable.

Directions:
1 – 3 capsules daily with food or as prescribed by your practitioner.

Notes:
Best taken with a main meal, and preferably in the evening.
Regular use of an appropriate antioxidant supplement is recommended.
[See 'Antioxidant Complex Co10 SELACE']
Store away from heat and light.
Not to be taken in combination with blood thinning medication (warfarin, courmarin, heparin, aspirin etc.).
Stop use for 1 week before surgical procedures.
Allergy Information: