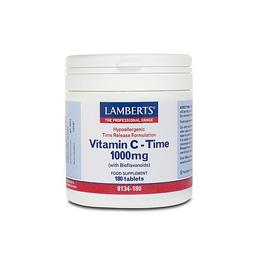 Vitamin C (Ascorbic Acid) 1000mg Time Release Tablets
VITAMIN C is one of the most well known antioxidant food supplements. It is used by the body to fight infections, maintain suitable cholesterol levels, improve healing and a myriad of other functions.

Vitamin C is responsible for the maintenance of collagen, and is essential for the health of joints, gums and skin. Many therapeutic skincare products now contain high levels of this vitamin.

Required by every one of the trillions of cells in the body, ascorbic acid is often lacking in diets low in fruit and vegetables and high in processed food and 'take-aways'.

To further increase the problem, Vitamin C is easily destroyed when food is stored, heated or exposed to light. Polluted atmospheres, car fumes and, in particular, cigarette smoking, all increase the body's requirement for this essential nutrient.

Vitamin C passes through the body in just a few hours, so it is best taken as a 'time-release' supplement. The body is unable to store Vitamin C, so daily use is recommended.


Directions:
1 – 2 tablets daily with food or as prescribed by your practitioner.

Notes:
Consumption above the body's requirements may cause mild transient diarrhoea. In this situation, reduce dose until symptoms subside.